A HAUNTED TALE OF MEMORY AND LOSS
KWAIDAN is a cinematic and atmospheric piece for teenagers and adults inspired by Japanese ghost stories and horror movies. It features life-sized puppets, humanettes, shadows, acting and videos.
Set in Japan in the early 1980s, Kwaidan tells the story of Haru, a young woman who comes back to her abandoned childhood home after many years of absence. Strange events happen as the house seems to be inhabited by spirits and ghosts from the past. As the story unfolds, the memory of a terrible event resurfaces.
Kwaidan won the price for best puppetry at International Puppet Theaters And Movie Animations for Adults in Warsaw (Poland).
Kwaidan has received funding from Arts Council England, Japan Foundation, Great-Britain Sasakawa Foundation and Japan Society and has been supported by Horse and Bamboo Theatre, Norwich Puppet Theatre, Little Angel Theatre, The National Puppetry Archive, British Unima and Metal Culture.
Concept: Aya Nakamura and Paul Piris
Performers: Aya Nakamura / Gilbert Taylor, Mohsen Nouri, Mark Whitaker
Puppet maker: Aya Nakamura / Mohsen Nouri
Director, video and sound designer: Paul Piris
Lighting designer and general manager: Nao Nagai
Set designer and builder: Phil Newman
Photographer: Monika Kita
www.monikakita.com
Graphic designer: Adam Hypki
www.adamhypki.com
Music: Jean-Baptiste Aubert
www.jeanbaptisteaubert.com
Artistic mentor: Bob Frith
Review extracts of Kwaidan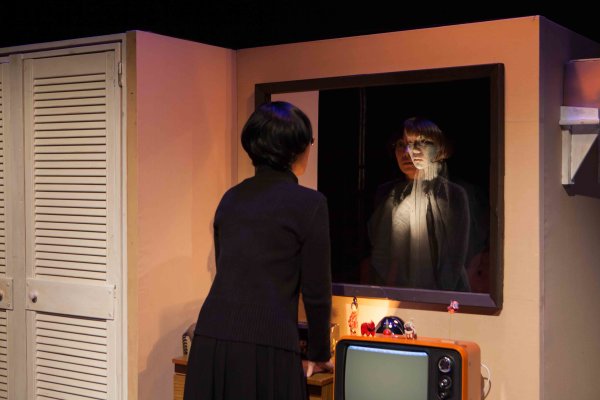 "As an actor and puppeteer, Aya Nakamura is an impressive performer. When working with life-sized puppets, Nakamura moves gracefully about the stage and convincingly breathes life into these large figures. She is a skilled provider of focus and a pleasure to watch."
"Kwaidan is an unusual theatrical experience, which succeeds in its attempts to creep the audience out through immersive and unexpected methods."
(Animations Online)
"The audience is kept on the edge of their seats, never quite knowing what is going to happen and which of the cleverly rigged and performed image effects is going to appear next."
"Rouge 28 have created something of a classic in the puppetry mystery horror genre"
(Total Theatre)
"The transition between humans and puppets is handled marvellously, with fantastic use of the darkness of doorways, the ambiguity of scrims, and the pitch black borders between rooms."
"I'd had chills enough for an evening and hugely enjoyed myself, so on that basis I think Kwaidan was very much a success."
(webcowgirl.wordpress.com)
"the technical skill of human-puppet interaction delivers an unsettling and unique theatrical experience."
(www.theupcoming.co.uk)
Audience feedback on Twitter
Seen some amazing shows at @suspense2015! Loved esp. the moving #threestagesoflazarus, visually stunning #Outpost and terrifying #Kwaidan! @JaneCrawshaw
Went to see 3rd show at @suspense2015 #Kwaidan has loads of great technical theatre, and great puppet action! #spooky ?@Roxanna_Kennedy
Kwaidan @suspense2015 was a lovely spooky show, with excellent integration of puppetry & live action & great lighting effects. Also: scary! @LifeCheapSeats
Really enjoyed #rough28's production of #kwaidan last night for @suspense2015 @oliverhymans