Ref:
Date:
Location:
Photographer:
Ref:
Date:
Location:
Photographer:
FURIES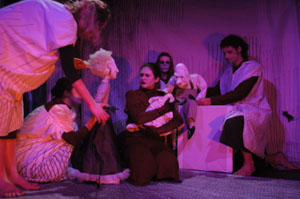 Based on an original idea of Paul Piris, Furies has been produced by DoppelGang but involved members of Rouge28 Theatre. The piece has been performed at Barons Court Theatre and at Byalistok International Puppet Festival in Poland in June 2006.

Inspired by Greek tragedies and Edward Gorey's gothic aesthetics, Furies is a darkly comic tales about revenge and the cycle of violence told by actors and puppets. The audience is taken into a world inhabited by a menacing old couple and a woman who sees more than anyone else.

Governed by mysterious forces, a man will meet his fate...
Director: Paul Piris; Writer: Miryana Dimitrova/Paul Piris; Scenographer: Jing Wong; Lighting designer: Boris Kahnert; Costume designer: Agnieszka Tomaszewska; Sound designer: Dimitris Karalis; Puppet maker: Seonaid Goody; Puppeteers: Sara Bexell, Seonaid Goody, Zoilo Lobera, Aya Nakamura; Actors: Seung Jun Lee, Emily Murphy.
VIDEO